XIAOMI MI BOX 4K PER PRIMEVIDEO, NETFLIX, GOOGLECAST E DAZN: XIAOMI MI BOX 3S È PLAYER MULTIMEDIALE ANDROID UHD E WIFI
Codice: XIAOMI-MI-BOX3S € 90,00 (€ 73,77 + IVA)
Non Disponibile
EAN: 6954176828330
Prodotto:
Xiaomi Android TV MiBox 3s: Lettore Multimedia 4K HDR, Wi-Fi AC Dualband, Bluetooth, Global Version.

Codice: XIAOMI MI BOX 3s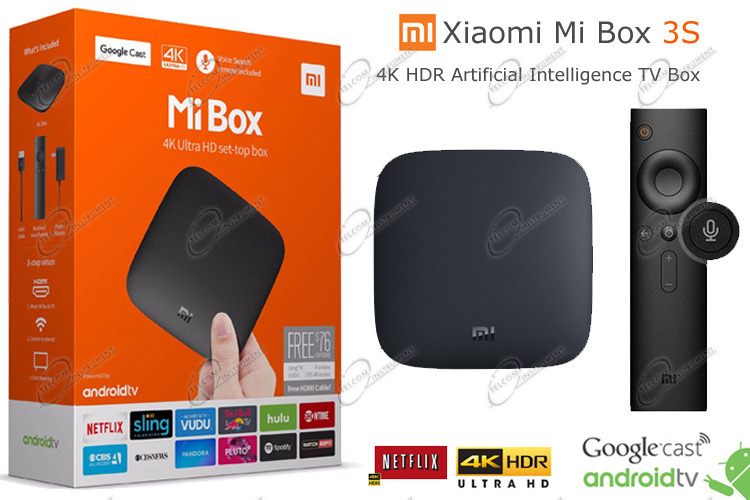 Mi Box è MediaPlayer UHD-4K, versione EU, per Netflix HD, DAZN e Amazon Prime Video.

Per collegarsi ad un mondo di contenuti multimediali e divertimento, è il Box Xiaomi basato su Android TV, certificato per Netflix UHD HDR e Prime Video di Amazon..
è facile da usare, con controllo vocale e Google Cast,
è in alta definizione 4K, per vedere: serie TV, Show, Sport, Film, etc;
ha connessione Wifi Dual Band e Bluetooth, per internet e condivisione DLNA con altri dispositivi;
è online per giocare, ascoltare radio e cercare notizie sulla rete;
è Android per usare Youtube e scaricare le Applicazioni preferite da Google Play.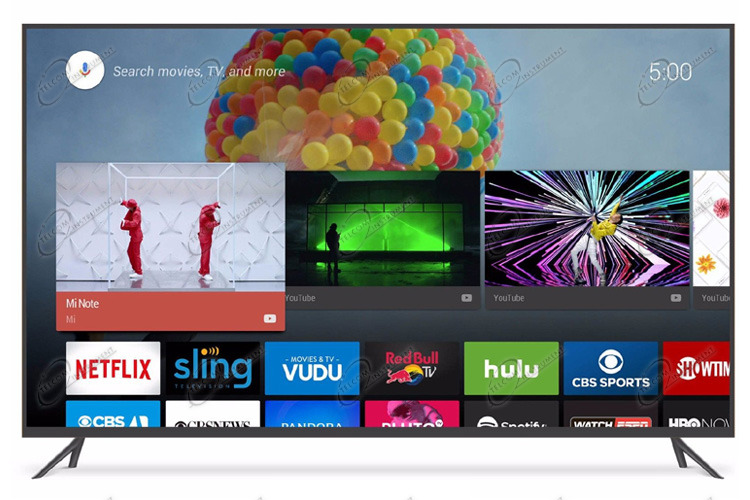 Il nuovo sistema Android TV versione 6.0 è pensato appositamente per i grandi schermi dei nuovi Smart TV: ha interfaccia completamente rielaborata, che si adatta al grande formato orizzontale della TV, e risoluzione UHD-4K che permette di vedere meglio Youtube, Netflix, Vudu, IPTV, e altri contenuti virali online.


MiBox 3s Xiaomi è con ANDROID TV ed è ideale per grandi schermi 4K.
Il Processore avanzato, la ampia Memoria e il potente Decoder Video, sono in grado di riprodurre film e video 4K UHD, anche in streaming; la GPU è ottima per moltissimi videogames, per giocare a casa ed in linea con gli amici, magari usando un gamepad bluetooth (non incluso).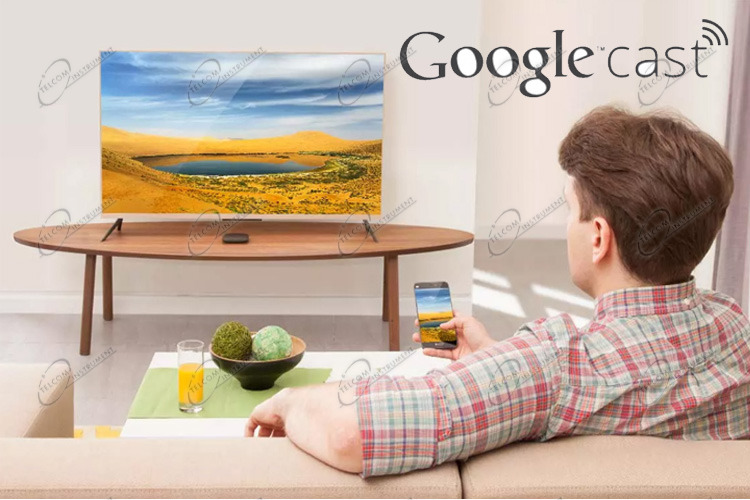 Xiaomi Mi Box 3s ha Google Cast e Telecomando con comandi vocali Bluetooth


Mi box ha preinstallato Google Cast, per passare con un singolo tocco, dal piccolo schermo dello smartphone, al Tv grande formato: eventi, video, film, musica dal telefonino o tablet, vanno direttamente sul TV.
In più, premendo il tasto sul telecomando si attiva la Ricerca Vocale: trovare film, canzoni, notizie e app è semplice con Android.

La ricerca con il microfono funziona anche all'interno delle applicazioni: così è possibile cercare, per esempio, una canzone su Spotify, oppure un film su Netflix, oppure un cantante su Youtube...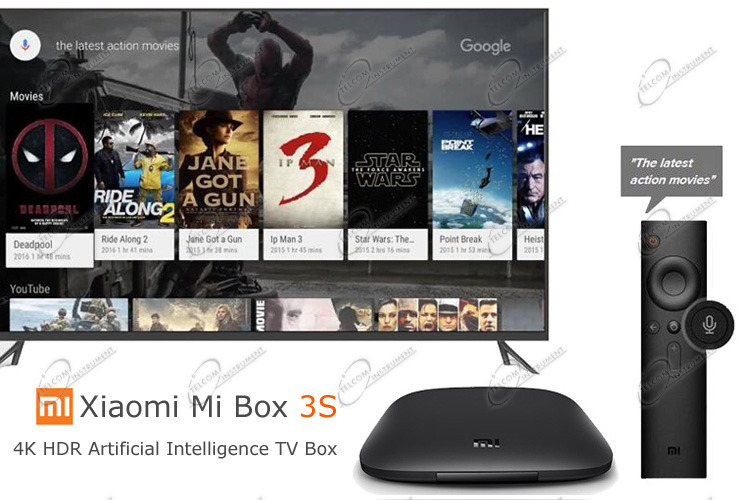 Lettore Xiaomi Mi Box 3s Android UHD supporta Video HDR e Audio Alta qualità DTS & Dolby Digital.

HDR è la nuova tecnologia video che permette di vedere dettagli e colori migliori: le scene sono più reali, con contrasto vivo, lucente e immagini più definite.
Xiaomi Mibox è ottimo per vedere contenuti HDR e UHD-4K anche su Netflix (vedi nota) Amazon Prime Video, ha uscita video HDMI 2.0, capace di trasmettere i dati fino 18Gbps, per mantenere la migliore qualità del suono e delle immagini.


Nota: è necessario lo Smart TV e i contenuti compatibili HDR e 4K, con connessione internet veloce, come da specifiche Netflix.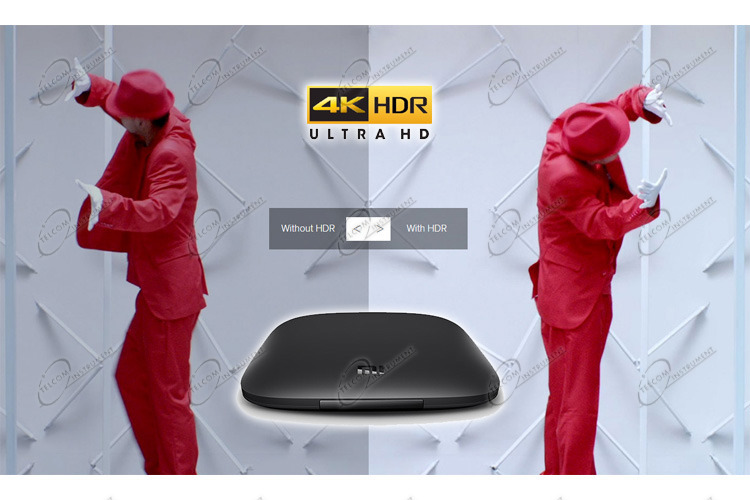 Audio DTS e Dolby Sorround
Mi Box supporta Audio con codifica Dolby Digital Plus e DTS Multichannel: il risultato è una qualità Audio sorprendente per coinvolgimento ed effetto dinamico, ancora più realistico.

Connessione Wireless e Bluetooth.
Il TV Box Android Xiaomi è dotato di modulo Wifi AC Dual Radio, a 2.4GHz e 5GHz. che garantisce la connessione wireless a internet, ad alta velocità, per la riproduzione fluida di film, musica, iptv e video in streaming, in alta definizione.

Il Bluetooth è per collegare oltre al telecomando, altri dispositivi come: smartphone, tablet, gamepad, speaker, etc. per condividere foto video e canzoni direttamente con Google Cast o DLNA o Airplayer (per Android).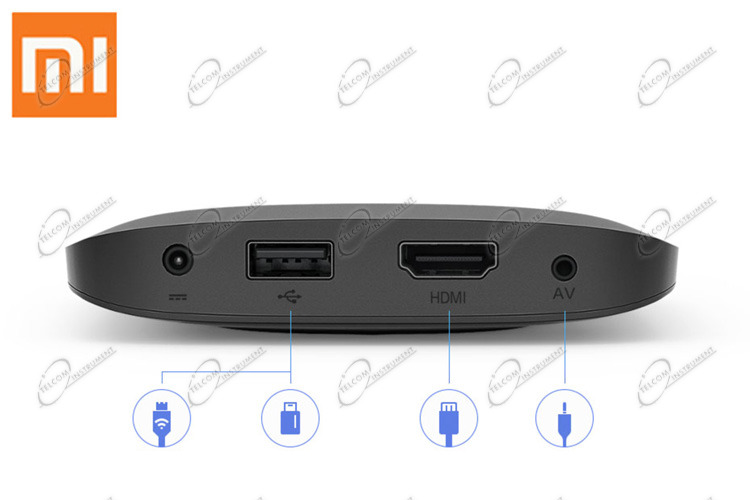 Confezione.
n.1 Xiaomi Mi Box 3s;
n.1 Alimentatore esterno;
n.1 Cavo HDMI;
n.1 Manuale in inglese.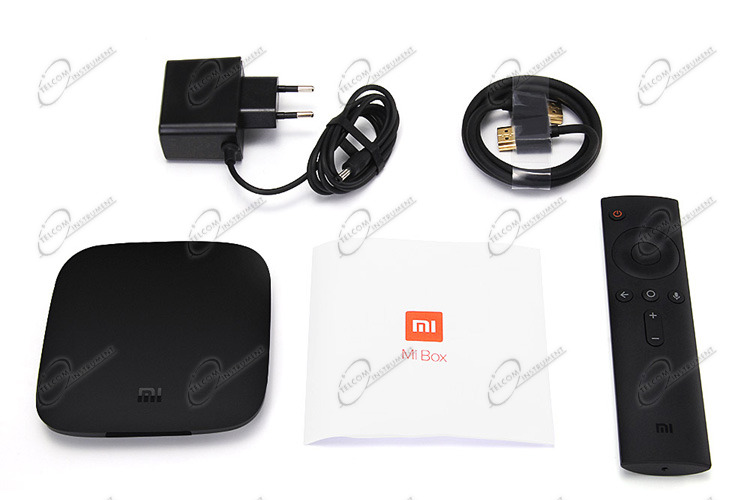 Caratteristiche.
Xiaomi Mi Box 3S, versione internazionale;
Lettore Multimediale 4K Ultra HD;
Processore Amlogic S905X Cortex-A53 64-bit 2.0GHz;
Processore Grafico GPU: Mali-450, 3+2core 750MHz;
Memoria RAM: 2GB DDR3, memoria Flash: 8GB eMMC5.1 high-speed memory;
Sistama operativo: Android TV 6.0;
Menù OSD multilingua: English, French, German, Spanish, Italiano, etc
Livello Android Security: Widevine L1 + PlayReady 3.0;
Telecomando Bluetooth con funzione Voice Remote Control;
Risoluzione massima UHD-4K 60fps - 3840+2160 HDR;
Compatibile Netfllix HD e 4K (necessarie condizioni Netflix);
Connessione Wi-Fi: 802.11a/b/g/n/ac, Wi-Fi Dual-band 2.4GHz/5GHz;
Connessione Bluetooth 4.1 + EDR;
Supporto formati Video:
* VP9 Profile-2 4K x 2K @ 60fps;
* H.265 HEVC 4K x 2K at 60fps;
* H.264 4K x 2K at 30fps;
* MPEG1/2/4, VC-1, DivX4/5;
* WMV3 up to 1920*1080P@60fps;
* Real8/9/10 up to 1280*720P@60fps;
Compatibile HDR10/HLG, HDR processing;
Formato video: RM, RMVB, FLV, MOV, AVI, MKV, TS, M2TS, MP4, 3GP, MPEG Support 3D video output;
Supporto formati Audio:
* DTS 2.0+ Digital Out, Dolby Digital Plus;
* Up to 7.1 pass through;
Formato Audio: MP3, APE, Flac, AAC, Ogg;
Uscita Video HDMI 2.0;
Porta USB2.0;
Uscita Audio SPDIF;
Alimentazione Esterna DC 5,2V 2A;
Alimentazione Telecomando x2 pile AAA;
Dimensioni: 101x101x19.5mm.
Colore Nero.
---