EDGESWITCH UBIQUITI SWITCH DI RETE CON 16 PORTE LAN, ALIMENTAZIONE POE, DUE PRESE SFP E FUNZIONE ROUTING
Codice: UBNT-EDGE-SW16 € 339,00 (€ 277,87 + IVA)
Non Disponibile
EAN: 0810354023224
Prodotto:
Ubiquiti EdgeSwitch Carrier x16 porte LAN Gigabit, switch PoE 802.3AF programmabile, e due porte SFP.

Codice: UBNT-EDGE-SW16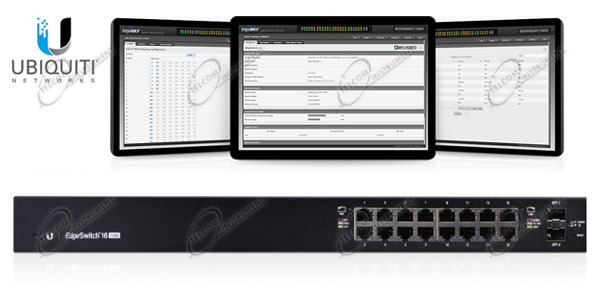 Powerful Enterprise Switch Models
The EdgeSwitch™ delivers the forwarding capacity to simultaneously process traffic on all ports at line rate without any packet loss. Total non-blocking throughput: up to 26 Gbps for 16-port models and up to 70 Gbps for 48-port models.
Enterprise-Class Features
The EdgeSwitch™ supports an extensive suite of advanced Layer-2 switching features and protocols, and also provides Layer-3 routing capability.
Optical Fiber Backhaul
Two SFP ports support uplinks of up to 1 Gbps. For high-capacity uplinks, each 48-port model includes two SFP+ ports for uplinks of up to 10 Gbps.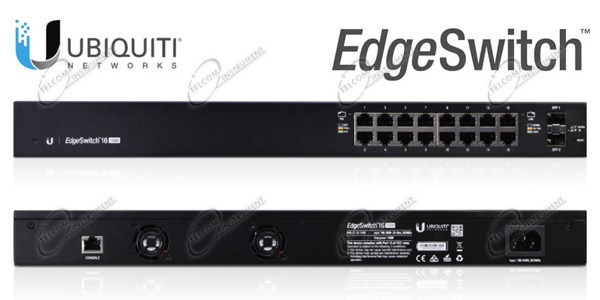 Convenient PoE+ Support
The EdgeSwitch™ features auto-sensing IEEE 802.3af/at and 24V passive PoE to power multiple devices on the network.
Breakthrough Value
The EdgeSwitch™ provides top price/performance value: a full-featured, enterprise-class switch starting at $399 USD MSRP.
Advanced UI
The comprehensive UI is easy to learn and allows administrators to configure and monitor features in a graphical user interface. For advanced users, a Command-Line Interface (CLI) is available through telnet and SSH.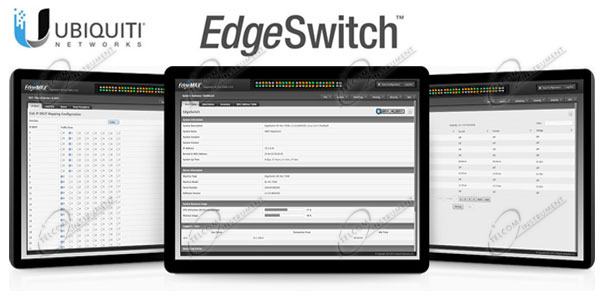 Contenuto della Confezione.
n.1 Ubnt Edge Switch x16;
n.1 Cordone di alimentazione;
Viti e Supporti per montaggio Rack;
Manuale in inglese.


Caratteristiche.
Switch Ubiquiti EdgeSwitch16-150W;
Max. Power: 150W;
Managed Switch;
16 Porte di Rete LAN Gigabit 10/100/1000 Mbps;
2 Porte SFP;
Supporto POE standard:
- 48V IEEE 802.3af,IEEE 802.3at (Pins 1, 2+; 3, 6-);
- 24V Passive PoE (Pins 4, 5+; 7, 8-);
Capacità di commutazione 52 Gbit/sec;
Throughput 38.69Mpps;
Tavola MAC Dimensioni: 8000 voci;
Led di stato: Activity,Link,PoE;
Alimentazione 100-240V AC 50-60 Hz;
Certificatione CE;
ESD/EMP Protection Air: ± 24 kV, Contact: ± 24 kV;
Rack-Mount Yes, 1U High;
Shock and Vibration ETSI300-019-1.4 Standard;
Management Interface
- n.16 10/100/1000 Mbps RJ45 Ethernet Ports;
- n.2 1Gbps SFP Ethernet Ports
- n.1 RJ45 Serial Port, Ethernet In/Out Band
Dimensioni: 485 x 43.7 x 285.4 mm.
---