BOX TVIP V412 WIRELESS È PER IPTV: È TVIP PER VEDERE TV E FILM IN STREAMING SU SMART TV DI CASA, V412 HA CONNESSIONE WIFI
Codice: HDD-TVIP-WIFI € 89,00 (€ 72,95 + IVA)
Non Disponibile
EAN: 7640150151011
Prodotto:
Il TVIP Wireless è un decoder IPTV, per guardare canali TV, film in streaming o video on demand.

Codice: HDD-TVIP-WIFI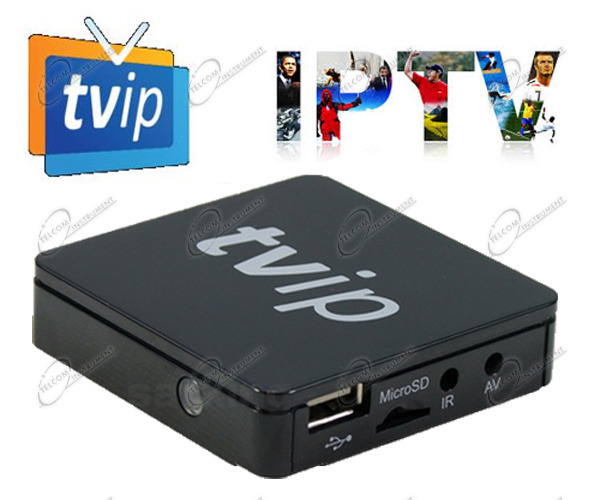 IPTV Set Top Box ha la connessione alla rete internet con Cavo LAN o Wireless.
Descrizione.
Se il TV di casa non è adatto per vedere la IPTV, ecco TVIP S-Box Wifi è il box multimediale adatto: è semplice ricevere film e canali TV in streaming, con la connessione internet Wireless e avere alta qualità delle immagini.
Il Set Top Box TVIP v412 è da collegare alla rete con cavo o con connessione Wireless, al Modem Adsl o Fibra, per vedere: Iptv, film in prima visione con il Video on Demand, sport e serie tv, servizi on-line delle emittenti.


TVIP Wireless è con uscita Alta Definizione Full-HD 1080p.

La console IPTV è dotata di interfaccia USB, lettore di memoria microSD, porta di rete LAN e modulo Wifi.
Con il ricevitore IPTV è possibile riprodurre film e musica da un Hard Disk HDD esterno (o altro dispositivo).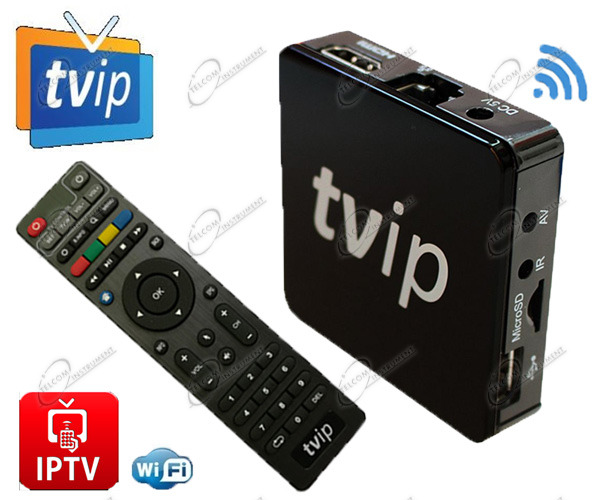 Specifiche Tecniche.
Sistema Operativo OS: Android KK 4.4 o Linux;
Chipset: ARM cortex A5 1,5Ghz Quad core;
Memoria 4Gb Flash drive;
Compatibile: OpenGL ES 2.0;
OSD multilingua;
Risoluzione Video FULL-HD 1920x1080;
Interfacce: HDMI, AV, Ethernet, 1xUSB, MicroSD Card, ext.IR;
Formati: MPEG-TS, AVI, MKV, MP4;
Dimensioni: 67?67?15 mm.
Video codec.
H.265 HEVC MP@L4.1 up to 1080P@60fps
H.264 AVC HP@L4.2 up to 1080P@60fps, H.264 MVC up to 1080P@60fps
MPEG-4 ASP@L5 up to 1080P@60fps (ISO-14496), WMV/VC-1 SP/MP/AP up to 1080P@60fps
AVS Jizhun Profile up to 1080P@60fps, RealVideo 8/9/10 up to 720P
MPEG-2 MP/HL up to 1080P@60fps (ISO-13818), MPEG-1 MP/HL up to 1080P@60fps (ISO-11172)
WebM up to VGA
CAS/DRM:
TVIP CAS
ARES CAS (IPTV Portal)
Widevine
Caratteristiche.
Windows sharing support (samba);
External USB and SD-card support;
Support for filesystems: FAT16/32, NTFS (read), NFS, Ext2, Ext3;
Streaming media protocol support RTSP, RTP, UDP, IGMP, HTTP;
Timeshift using USB drive or SD-card;

M3U playlist support;

TV guide support for EPG: xmltv and jtv;
Android applications support, including games;

Browser,

Photo viewer,

YouTube,

Airplay,

DLNA.
---