ZGEMMA H5 È DECODER COMBO IPTV E HD: RICEVITORE IPTV ZGEMMA È COMPATIBILE HEVC
Codice: SAT-ZGEMMA H5 € 75,00 (€ 61,48 + IVA)
Disponibile
EAN: 8059395880201
Acquista entro 6 ore e 6 minuti
Ordine verrà spedito OGGI
Prodotto:
Decoder Zgemma H5 per vedere canali HD della TV Terrestre, Satellitare e Iptv.

Codice: SAT-ZGEMMA H5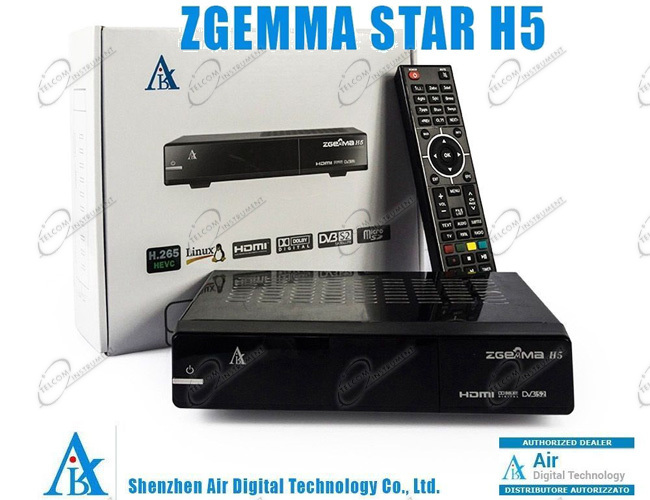 Zgemma H5 è un prodotto originale AirDigital, con uscita video HDMI e slot MicroSD.

Descrizione.
Il decoder ZGEMMA-H5 è un ricevitore combo per la visione IPTV e dei canali TV Terrestre e Satellitare HD in Alta definizione, con due tuner indipendenti, equipaggiato di CPU 2000Mips, Flash memory e Ram DDR3 ad alta velocità, lettore di smarcard e lettore per memorie esterne micro-SD.
Lo Zgemma h5 è fornito con software OPENATV preinstallata: è possibile usare la memoria mini SD per espandere la memoria Flash interna.
Il microprocessore interno è idoneo per vedere, via internet, in modo fluido: IPTV e contenuti in streaming (film, serie TV, sport, youtube, etc).
La connessione internet è possibile collegando il decoder al modem, con cavo di rete Ethernet CAT.5E oppure Wifi, acquistando: chiavetta Wi-Fi Zgemma -->.



Nota: la qualità della visione tramite IPTV, non dipende in alcun modo dal decoder, ma dalla connessione internet, dalla risoluzione del programma e dalla qualità del server che offre il servizio.

Caratteristiche Tecniche:
ZgemmaStar H5;
Sistema operativo Linux Enigma2;
Compatibile HEVC x265;
Uscita video HDMI 1080p in alta definizione Full-HD, e CVBS (Rca per video + audio stereo);
n.2 Tuner: Satellitare DVB-S2 + Hybrid DVB-T2/C Digitale Terrestre;
n.1 Lettore Smartcard-Reader;
n.1 Slot per MicroSD;
n.2 Porte USB;
n.1 Presa LAN di Rete, (connessione Wifi opzionale con Dongle USB);
Menù User-friendly Linux, multilingua (anche in italiano);
Interfaccia OSD GUI Personalizzabile con vari skins;
Ricerca Canali Automatica/Manuale, e possibilità di scaricare liste canali preferite (serve connessione internet);
Advanced EPG (Electronic Program Guide) e Parental Control;

Funzione timeshift esterno su Usb o microSD, lettore multimediale USB, etc;

Applicazioni Plug-in gratuite, compatibile con IPTV, Web Tv, etc;

Supporta Video: HD, 3D, mkv, h265, h264, HBBTV, Youtube, Iptv, Emu Firmware, etc;

Supporto firmware Enigma2: OpenPLi, Open ATV, e altre immagini.
Aggiornamento software via internet o USB;
Display LED Frontale.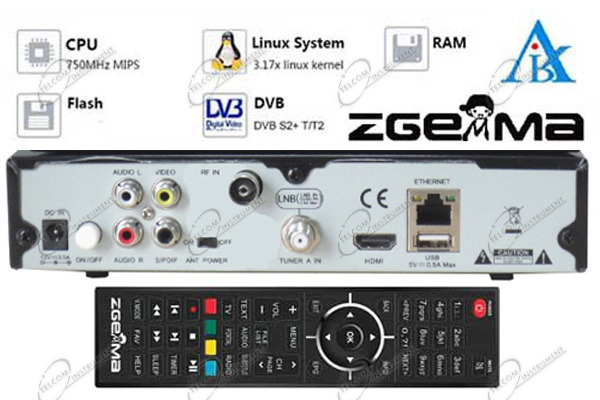 Contenuto della confezione:
n.1 ZGEMMA STAR H5;
n.1 Telecomando;
n.1 Alimentatore;
n.1 Cavo HDMI.

Specifiche Tecniche:
HDTV Receiver MPEG-2/4 H. 264,HEVC/H.265;
New Main Processor CPU BCM73625 Dual Core 2000Mips;
4.01x Linux Kernel
Excellent sound quality in Dolby Digital;
Two Tuner built-in: DVB-S2 + DVB-T2/C Hybrid;
Micro SD card (TF card) reader, support: 8GB, 64GB, 128GB (optional)
HDMI Connection;
AV Connection;
1 x Cardreader (MultiCAS);
2 x USB 2.0;
1 x LAN Ethernet access 10/100 Mbit;
Support Wifi connection, via USB dongle (optional);
Memory 256MB NAND Flash / 512MB DDR3;
Timeshift;
Electronic TV programmes ( EPG ) support:
Parental Control;
Plugin Service;
OSD into many languages and graphics (Skins);
Webinterface, WEB Remotcontrol;
DISEqC 1.0, 1.1, 1.2, 1.3 22Khz and USAL;
External power supply12V 3A.
La programmazione del decoder con immagini firmware diversa da ENIGMA2 autorizzata ed installata dal produttore, o altre modifiche software,
fa decadere il diritto al recesso, la garanzia legale e la protezione acquirenti di Paypal
tag: zgemma h5, zgemma star h5, zgemma-h5, zgemmastar h5
---